Welcome to Cisca Painting
Serving For Over 12 Years
92% Repeat Clients
100% Quality
Cisca Painting & Waterproofing, Inc. was founded in 2003 by Frank Balleste. Cisca is not only painting contractor's, but also state certified general contractors. Cisca currently employ 71 full time men and women for the painting, concrete restoration, construction and waterproofing divisions. We offer boutique services, curtailed to the specific project at hand, giving our client an infinite amount of options to choose from. By being able to self-perform the majority of our work, Cisca is able to control the quality, schedule, budgets and job safety, for each and every client, at all times. All Cisca personal is OHSA certified. Cisca is fully licensed and insured.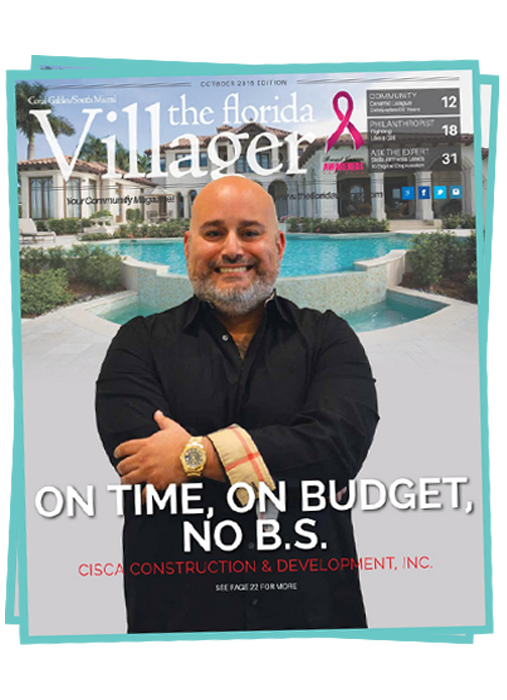 As Featured In...
The Florida Villager Magazine
CORAL GABLES/SOUTH MIAMI
The October 2015 Coral Gables/South Miami Edition of The Florida Villager. Featuring Cisca Construction!
CISCA PAINTING PHILOSOPHY
In today's ever-evolving construction environment, credibility and trust among all parties are as essential to the building process as superior materials and craftsmanship. This is why Cisca Painting, Inc. is committed to continuously cultivating and maintaining client partnerships grounded in experience, judgment and integrity.Our work is personal, and we treat our clients like people, not figures on a spreadsheet. Successful relations are at the heart of everything we do. That's the Cisca Difference.
REASONS TO CHOOSE CISCA PAINTING
Providing consultation services for design and color combination selection with the latest industry trends.
Hands-on, senior level involvement in every phase of the project.  Our supervisors and project managers are well acquainted with every detail to meet your expectations.
Our team is highly qualified and experienced to meet your highest expectations… based on prequalification standards, trust and experience… are just a few factors that keep Cisca Construction ahead of the competition.
Face-to-face interaction and communication. Frank personally goes out to see each and every job and meet every client to understand every detail. Project managers are always on site to continually report with work in progress.
We know that a quality job also requires quality materials. By using the best products in the industry, you can rest assured knowing that the work is guaranteed to last!
We know that time is money during construction, so we respect your timelines and deadlines. We take time to organize and to execute with no mix ups.
SERIOUS  PAINTING CONTRACTING.
That's what we do best!
If you want a painting contractor that means what they say and provides personal attention, click on the button to contact us. We will do what it takes to earn your trust and your business!
DELIVERING QUALITY YOU EXPECT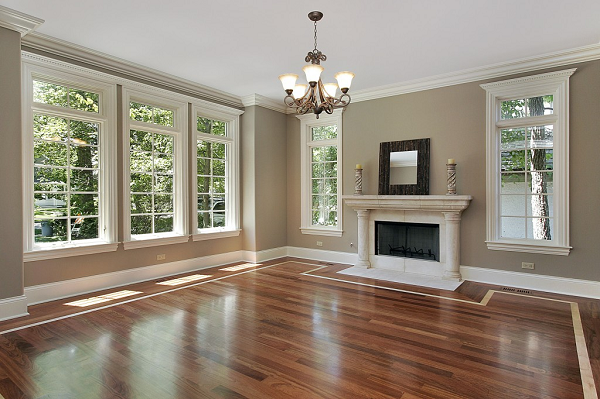 OUR CLEAN-UP FOC-- USES ON THE FINISHING TOUCHES TO DELIVER A TURN KEY JOB!
USING THE LATEST TECHNOLOGY TO BETTER SERVE YOU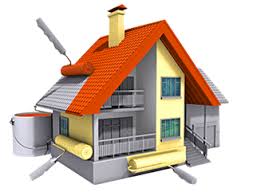 At Cisca Painting, we utilize the latest technology in assuring you that we carefully manage every detail of your project. Our management team and field reps are connected in real time using cutting edge systems. Job site reporting is done and reviewed on a daily basis. Scheduling for materials and employees never falls through the cracks with our innovative procedures. Communication with our customers and job authorizations are done seamlessly without any time sacrifices in the event that we need to request additional approvals in the course of a job for unexpected issues.
WHAT CLIENTS SAY ABOUT US?
Frank and Cisca Painting has been the most professional, reliable contractor I have ever worked with. When he says he will be there, call you back, send a quote, look at products with me, and actually complete a job — he does! He is not the type of person to do the bare minimum. He looks at his projects from various perspectives: time-line, safety issues, potential concerns, cost-effectiveness and overall expectations. His follow through is impeccable. Frank and his team handled everything with the level you would expect from someone who has been in the business for 15+ years, yet with the modern vision and youthful energy you only hope to have in a painting contractor.
Jackie Cabera
Owner | Project: Residential Renovation
Your painting teams have exemplified excellent workmanship, commitment to details and the ability to complete the project on time and within budget. We are convinced that choosing your firm to enter into a complete repainting contract was the best decision. We were able to make necessary adjustments to design throughout the job, all the while keeping aware of the impact on the schedule and the budget. The key to a successful project is choosing an honest and competent contractor and we found just that in Cisca Painting.``
Zodie Mercado
Department of Labor | Homestead Job Corps Center | Project: Building Renovation
















CISCA PAINTING HEADQUARTERS